Disclosure: This post may contain affiliate links, which means I may receive a small commission, at no cost to you, if you make a purchase through a link.
Pinterest is one of the best ways for websites and blogs to grow their traffic – with over 200 million users, Pinterest is the place to be. But how do you gain traffic from Pinterest?
What is Pinterest?
Pinterest might be one of the most overlooked traffic sources for websites. It's a visual search engine (like Google, but with images), where people go every day to search for solutions to their problems. This is amazing because if you can deliver that solution, the people are going to be really interested in what you have to say.
If you have a blog, you have to be on Pinterest.
Profile Optimization
The first thing you have to do to make it big on Pinterest is, obviously, to create an account. After you have done that, there are a few very important steps to take, so don't overlook these.
Business Account
There are two types of accounts on Pinterest – personal accounts, and business accounts. If you want to use Pinterest for marketing, you're going to need the business one. With a business account, you gain access to Pinterest's Analytics, and also enable you to allow Rich Pins, which we'll cover in a moment.
Be also sure to claim your website. This lets Pinterest know it's really your website. You might need help from a developer, as you need to insert a bit of code to your site.
Profile Picture
Many bloggers and other Pinterest influencer tell you should make your profile picture on Pinterest your own headshot. While it is true people usually trust you more, if you show your real photo, it isn't much of a problem when you use a clear logo as your profile picture. Just be sure that it's easily recognizable.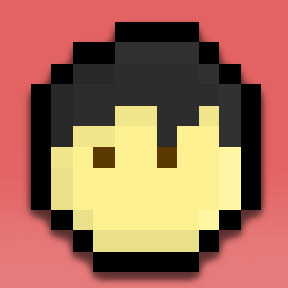 Profile Name
Often overlooked, the name of your profile is also a great place to fill up with keywords. A good formula for a name, I think, is Name | Niche. For example, my name on Pinterest is Eledris | Worldbuilding, Writing, Art & GameDev. This way, my profile pops up first on searches for both worldbuilding and gamedev, and I'm also pretty high up on writing.


Profile Description
The description of your profile is probably one of the most important parts of your profile to optimize. You should fill it up with keywords relevant to your niche, as well as a link to your blog, website, or landing page, along with a call to action.
Boards
Boards are a place where you can put all your pins. There are three types of boards – public, secret, and group boards.
Secret Boards
Secret boards are boards that only you can see. This might be useful when preparing a board that you'll want to release later, but secret boards are usually the least used type of boards.
Public Boards
On the flip side, there are public boards. This is the bread and butter of a Pinterest influencer. These are boards that will show up on your profile first and only you can pin to them. You should create at least 10 of these boards. The same rules for optimization apply, as with the profile (good name, relevant description). You can also set a cover for the board, which is highly recommended. Design a pin (square size), place the name of the board in the image, post that pin to the board with a good description, and link to the board itself. Then, in the board settings, you can set that pin to be the cover of that board.
Once you have created and optimized a board, it's time to start pinning to it. A lot of the boards I have are full of re-pins of other people's pins. You should post pins from other pinners, because Pinterest likes that – you don't want to spam your content, without helping others promote theirs. The ideal number of pins-a-day varies, but I'd say somewhere about 20 repins spread through the day is fine. How can you pin so much, you ask? Well, we're going to dive into that a bit later in the article, but trust me, it does not take hours of pinning every day to make it big on Pinterest.
A bonus tip: you should have one board where you pin just your articles. Pin your new articles to this board FIRST, because Pinterest remembers a pin's first board, and carries that data everywhere with the pin.
You can also set this board to be featured on your profile, so people see it right away.
Group Boards
The last type of boards, group boards, is just as important, if not more than public boards. These boards can have multiple contributors, who pin to them. Some group boards have as little as 2 pinners, others have up to hundreds. The reason why group boards are so important is that they're often highly followed (I'm part of some group boards that have around 70,000 followers). If you get invited to a group board like this, you can place your pins in front of huge numbers of people, right away. Find group boards relevant to your niche, as well as more general boards filled with bloggers, and start posting your pins to these boards. You should be part of up to 50 group boards (but start slow, with about 5, as group boards can be hard to manage).
How do you find group boards? It's easy! Just search for a term, select Boards on the search bar, and you'll see a ton of relevant boards. You can identify the group boards simply, for they have a "profile picture", while the normal ones don't.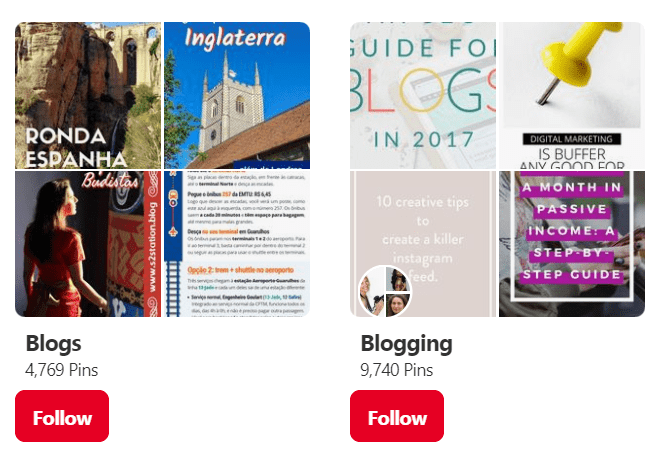 Usually, in the group board's description, you can find instructions on how to join. This can include sending an email, or a message on Pinterest. Don't worry if you don't get an answer, it happens very often. Be sure to track your group boards in a spreadsheet, because you'll be sending a lot of join requests, and it'll be very easy to get lost in it.
You can join my newsletter, in order to get a Pinterest Traffic checklist, as well as a ton of other exclusive resources!
Pins
Pins are the "posts" you find on Pinterest. They're comprised of an image, a title, a description, and a link. You can pin pins to boards, where they're saved. People can then see these pins, save them to their boards, or click on the links attached to them. You'll want to create 3-5 pins for each post you have on your website. To get traffic from Pinterest, you have to pin your own optimized pins, as well as pins of other people. Let's look on how to create a pin!
Image
The first step of creating a pin is the image. The easiest way to design images for pins is to use free tools, such as Canva. Canva is an online tool you can use to design images, such as pins. Just create an account, pick the dimensions of the image (there's a preset for Pinterest pins), pick a template, and change it, so it suits your branding. Keep in mind that Pinterest users prefer brighter colors and catchy headlines.
Title
As with board names and your profile name, be sure to fill the pin's title with relevant keywords. I usually include the text on the pin's image (or the title of the article I'm promoting), the topic that the article talks about (Worldbuilding, Writing, Art, GameDev, or Business), and
"Eledris". This way, when people search for Eledris, looking for pins, my pins come up first, and I also rank for some of the terms I have articles on.
Description
As you might have guessed, description is very important for Pinterest SEO. Once again, include relevant keywords, both general and specific, as well as a call to action – for example, "Click to read the whole article!".
Link
Link your article (or any page you want the pin to lead to), without using any shorteners.
You can use direct affiliate links on Pinterest, but be sure to check with your provider, if they allow it. In the example of Amazon, there's a lot of confusion (it seems like the confusion reached Amazon itself), so I wouldn't risk it.
Rich Pins
If you have a business account on Pinterest, you can apply to enable Rich Pins. When your application is accepted, the pins leading to your website will become Rich Pins. These pins have several different types, but I'm going to focus on the Article type, in this guide (I'm going to release an article on Rich Pins in the future, where I'll be covering them in much more detail).
These pins include the author's name, a "Read More" button, and a description from the article, carried on the pin forever. This is, of course, a huge incentive for people to save and click your pins more.
Strategy
There are a lot of pinning strategies out there. Manual pinning strategies involve you manually pinning pins on Pinterest, while automatic strategies use schedulers to do the job. There's no real way to tell which strategy is best because it's very individual. I personally use a combination of both types.
Manually, I pin my article-pins to all the group boards I'm in, almost every day. I keep huge spreadsheets of all my pins, group boards, and the dates last-pinned. This is a lot of work to set up but then takes only 15 minutes a day. Some bloggers believe that Pinterest's algorithm likes when you're pinning stuff manually.
On the other hand, I use Tailwind, the number one scheduler for Pinterest (they're even approved by Pinterest itself). With Tailwind, you can schedule pins to be posted automatically at ideal times, as well as join Tribes, which are like group boards on steroids. Basically, you find a Tribe of your niche, where you can post your own pins, as well as find content to share on your Pinterest profile (it's a win-win!). I'll be writing a fully dedicated article on Tailwind soon.
To find a good strategy for your website, you should do a lot of experimentation. As I said, what works and what doesn't is very individual. However, if you don't want to go to all of that trouble, I offer to create you a Pinterest pinning strategy, to help you gain traffic to your website.
Conclusion
We have covered a lot today! Pinterest is the number one source of traffic for my blog, as for a ton of other websites, so if you haven't been using it for marketing, you're missing out. You should create a profile, optimize it, build a lot of boards, join some group boards, and start pinning. Good luck, and be sure to send me your profiles, I'll be glad to share a pin or two!
If you have any questions, let me know in the comment section, or via email at darezar@eledris.com!