If you want to improve your skills as an artist, or if you're just bored, consider these art challenges!
There is a lot of talk about challenges in the art community, and there is a reason for that. Challenges are one of the best ways to rapidly improve your drawing skills, create content that is easily marketable on social media, as well as just have fun.
There are two main types of art challenges, the way I see it. Long-term and short-term. Short-term challenges usually take as little as a minute. One example of a short-term art challenge is the 10 minute, 1 minute, 10 seconds challenge. In this one, you make a drawing in 10 minutes, then you try to recreate the same drawing in 1 minute, then in one second. Short-term challenges are usually fun and highly marketable, you can do them at any time, but you won't get so much out of them in terms of skill improvement.
On the other hand, there are long-term challenges. These take up usually 30 days, but they can reach up to 100 days, maybe even more. Their point is to draw one drawing each day for the time period, each time with the same constraint. For example, in Inktober, perhaps the best-known challenge, you have to draw one drawing in ink each day of October.
Challenges will usually push you out of your comfort zone and teach you new skills. This is because challenges impose constraints on you. In the case of Inktober, the medium is set (ink). When it comes to March of the Robots, you are limited in the theme; you always have to draw a robot.
Challenges are one of the best ways to rapidly improve your drawing skills, create content that is easily marketable on social media, as well as just have a lot of fun.
Click To Tweet
Long-Term Art Challenges
Inktober
Created by Jake Parker in 2009, Inktober is a challenge taking place during the whole month of October (31 days). The participants create one drawing in ink each day. The Inktober website even has an official prompt list to help you get ideas, but you don't have to abide by them. Using ink can be a nice refresher from your usual art supplies. I'd recommend learning with an ink brush because it offers a lot of freedom with line weights.
On Inktober's website, you can find the FAQ, rules, as well as some very cool merch, and video-courses on inking.
March of Robots
Similar to Inktober, March of Robots is a month-long challenge. Every year in March (as you might have guessed), artists all around the world gather to create drawings of robots. You can check the March of Robots website for more info.
March of Robots also gives away free stuff to its participants, including drawing tablets and software. You can find an official prompt list for every day on the website, along with the rules, the giveaways, a gallery of a ton of drawings made for March of Robots, a merch store, and a contact page.
Mermay
The third challenge of a similar nature, where you can draw a bunch of mermaids during the month of May. Mermay's official site can tell you more.
PixelDailies
For pixel artists, you can try to check @Pixel_Dailies on Twitter to find daily themes for you to get inspired and create a piece each day. The themes are usually fairly simple, such as samurai, key, onion, or dumpling. They also retweet pixel art made with the daily theme in mind – it's really interesting to see how different the drawings can be, even though they're inspired by the same word.
DigiDailies
A rising challenge on Twitter, @DigiDailies submits a daily prompt for you to create a digital artwork each day. Similarly to PixelDailies, you can get a daily theme to draw digitally. While DigiDailies is significantly younger and less followed than PixelDailies, I still believe it's a great account, that can provide a lot of inspiration for artists who don't particularly enjoy making pixel art.
DoodleAddicts
DoodleAddicts try to push you out of your comfort zone, which will improve your skills. It can also help you get exposure if you're looking for that sort of thing, as they publish some of the submissions on their website. As they say on the website:
"Our constantly changing drawing challenge themes and art prompts are guaranteed to get you outside of your comfort zone while helping you sharpen your skills, gain exposure, and win awesome prizes from our partners. From doodling on coffee cups, to illustrating strangers, explore just how much you can push your creative limits!"
The huge variety in their challenges ensures you can stay motivated and not get bored from drawing the same sort of thing, in the same sort of style, every day. Some of their challenges even offer giveaways, such as a free year of Adobe Creative Cloud.
Some of their previous challenges include:
Urban Explorer Drawing Challenge, where you have to draw various buildings and other interesting pieces of architecture.
Drawn Opposites, which has you fill both pages of a sketchbook spread with things that are opposites to each other.
Doodle On A Dollar, that's pretty self-explanatory.
The Sketchbook Project
Not a challenge in the common meaning, but I decided to include this giant project into this list because I think it works for the brain in a similar-ish way. If you want to participate in the Sketchbook Project, you buy their sketchbook, fill it up, send it back and it gets logged into their library – a gallery in Brooklyn.
It's nice to feel as a part of such a huge project, and I'd love to buy and finish their sketchbook someday.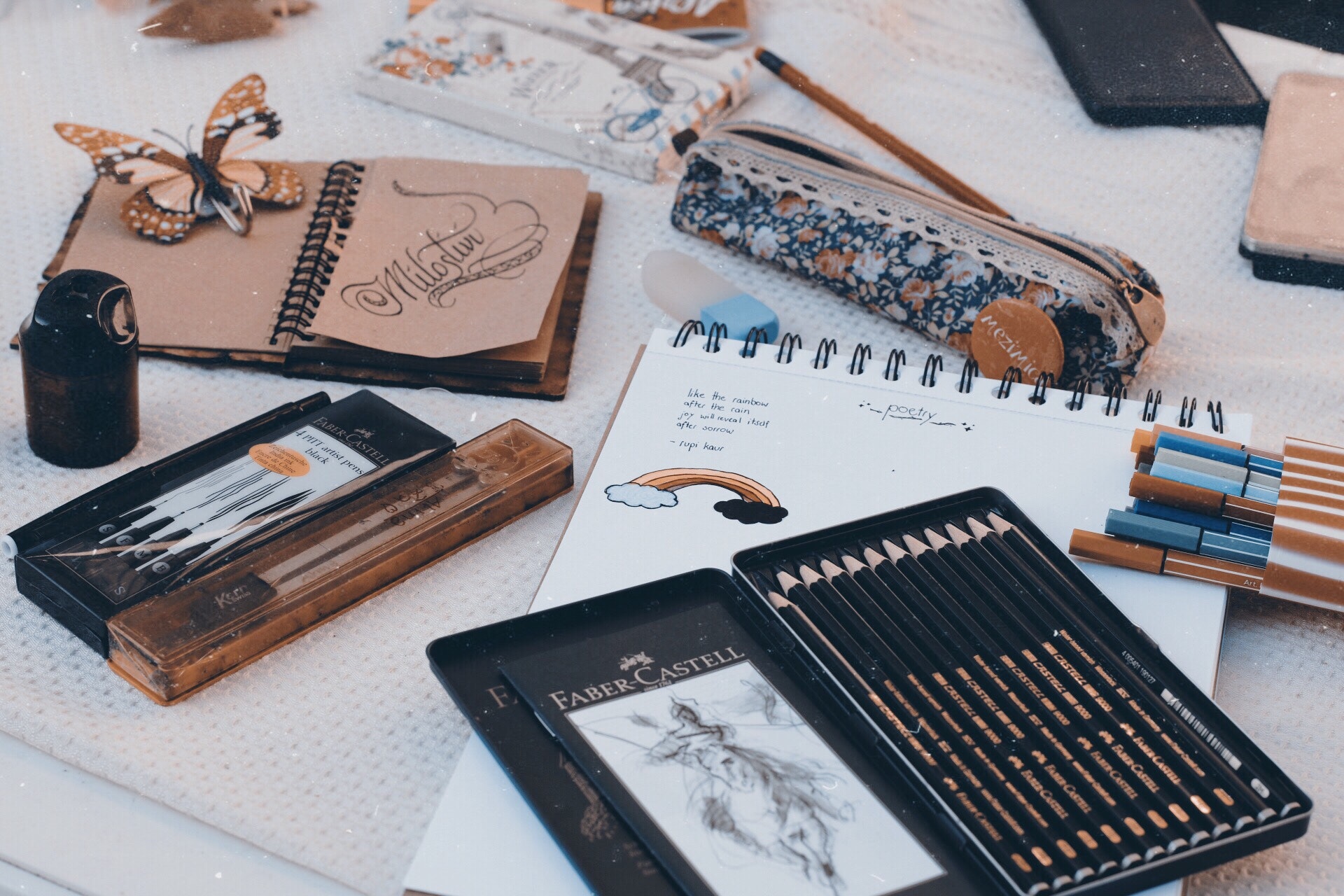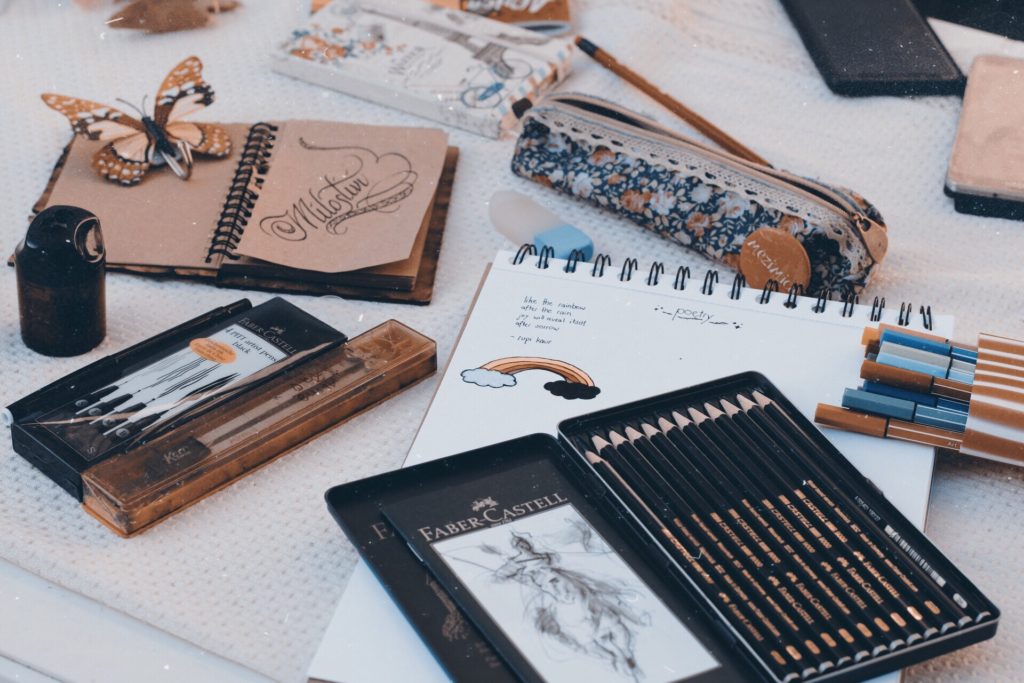 Before we look at the short-term challenges, I'd like to offer you a checklist summarizing the challenges in this article, as well as a ton of other exclusive resources. I'm creating a library of resources for every one of my articles, and you can get the password to it when you sign up for my newsletter.
Short-Term Art Challenges
Draw This Again
Great if you want to really see your improvement as an artist, the Draw This Again challenge consists of taking an old artwork (the older, the better) and recreating it.
By taking up this quick challenge, you can clearly see how much you've improved over the years, which can be very motivating, especially when dealing with an art block.
You can, of course, post your improved drawings, along with the old ones, on social media. This tends to get a lot of traction, because people like to see the long way an artist has come.
10 minute, 1 minute, 10 seconds
As mentioned before, for this challenge, you pick any theme and medium you want. Then you set your timer to ten minutes and create the best drawing you can. After that, you try your best to recreate that same image in one minute, and ten seconds.
This can be a nice break of pace when you're bored and have only a few minutes to spare. Themes can be pretty much anything you want, from a self-portrait, your favorite cartoon character, a place you've known for your whole life, an animal, a city drawn from reference, really anything. It's fun to try to capture the important elements of a drawing in such a little time.
If you record yourself drawing, this challenge makes for a pretty good Youtube video, and the results can be scanned/photographed and posted on social media, such as Instagram, or Twitter.
One Line Challenge
For the one line challenge, decide on a topic to draw, and grab a pencil, inkbrush, or whatever you use to create your art. The catch of this challenge is that once you put down your pencil, you can't lift it up again, and you have to draw for 30 minutes straight.
One Color Challenge
This challenge was recently fairly popularized on Youtube. Pick a color, and gather all of your art supplies in that color. Draw a piece using each of these supplies. Here, as an example, you can see DrawingWiffWaffles' playlist of her doing this challenge with several different colors.
In the One Color Challenge, you can choose any color you want, just make sure you've got at least some supplies in that color. Try to think about what the particular color means to you, what emotions does it evoke, and how could it be personalized into the drawing. When drawing, don't just draw something with one color, express the color in the picture.
3 Markers Character Design Challenge
If you have a stack of colored markers on you, choose three randomly. These colored markers will be your base. Now you have to design a whole character around these three colors.
You can use different art supplies than the markers, even other colors, but the main colors must be the ones you have randomly chosen, and the character's personality and appearance should be based on the colors as well.
When you're done with the character, you can post it on social media. As with all of these short-term challenges, the results often gain a lot of traction if you post them. If you have a camera and are comfortable speaking and drawing in front of one, consider even making a Youtube video about this challenge.
Challenges are a great way to fill up your sketchbooks. However, they're definitely not the only one. I've actually written a huge article on different ways to fill up a sketchbook! Check it out by clicking on the link.
Did I miss a challenge? Have you created a challenge that you want me to include? Be sure to let me know by posting a comment!
Art Challenges FAQ
What is an art challenge?
An art challenge is a fun exercise that is designed to push you out of your comfort zone and improve your drawing skills. They usually do this by setting a constraint on the medium, or the topic.
What are some drawing challenges?
There are many drawing challenges, ranging from 5-minutes-short, all the way to 100-days-long. However, these are the main ones: Inktober, March of Robots, Mermay, One Color Challenge, 3 Markers Character Design Challenge, the 10 minutes, 1 minute, 10 seconds challenge.
What are the monthly art challenges?
While there are art challenges for every month, these are the main ones:
Inktober in October
March of Robots in March
Mermay in May