Disclosure: This post may contain affiliate links, which means I may receive a small commission, at no cost to you, if you make a purchase through a link.
Grammarly is the one tool you need when writing, plus you can make money off of it! Learn all about it in this article.
You've probably heard about Grammarly, in one of their ads on YouTube, but you might not know about all of their features. Grammarly is a tool that helps you with spelling, grammar, punctuation, tone, and style. It can also help you find plagiarism, and provide real-time readability score. Some of these features are in the free version, which you can add to your browser, other are in the Premium one, which costs about $12 a month if you pay annually, and $30 if you want to pay monthly. I would now like to dive into the features of Grammarly free and Grammarly premium, so you can find what is the best-suited option for you. In the last section of the article, I will cover how you can make money from Grammarly!
Free Features
With the free version of Grammarly, which I use at the moment, you get access to grammar checks, spell checks, and punctuation checks, as well as a few other neat features.
Grammar
This is probably the tool I use the least, but I can see it working really well for someone not really fluent in English. If you do a mistake in your writing, like using the word "affect" instead of "effect", Grammarly underlines the word and suggests the better one.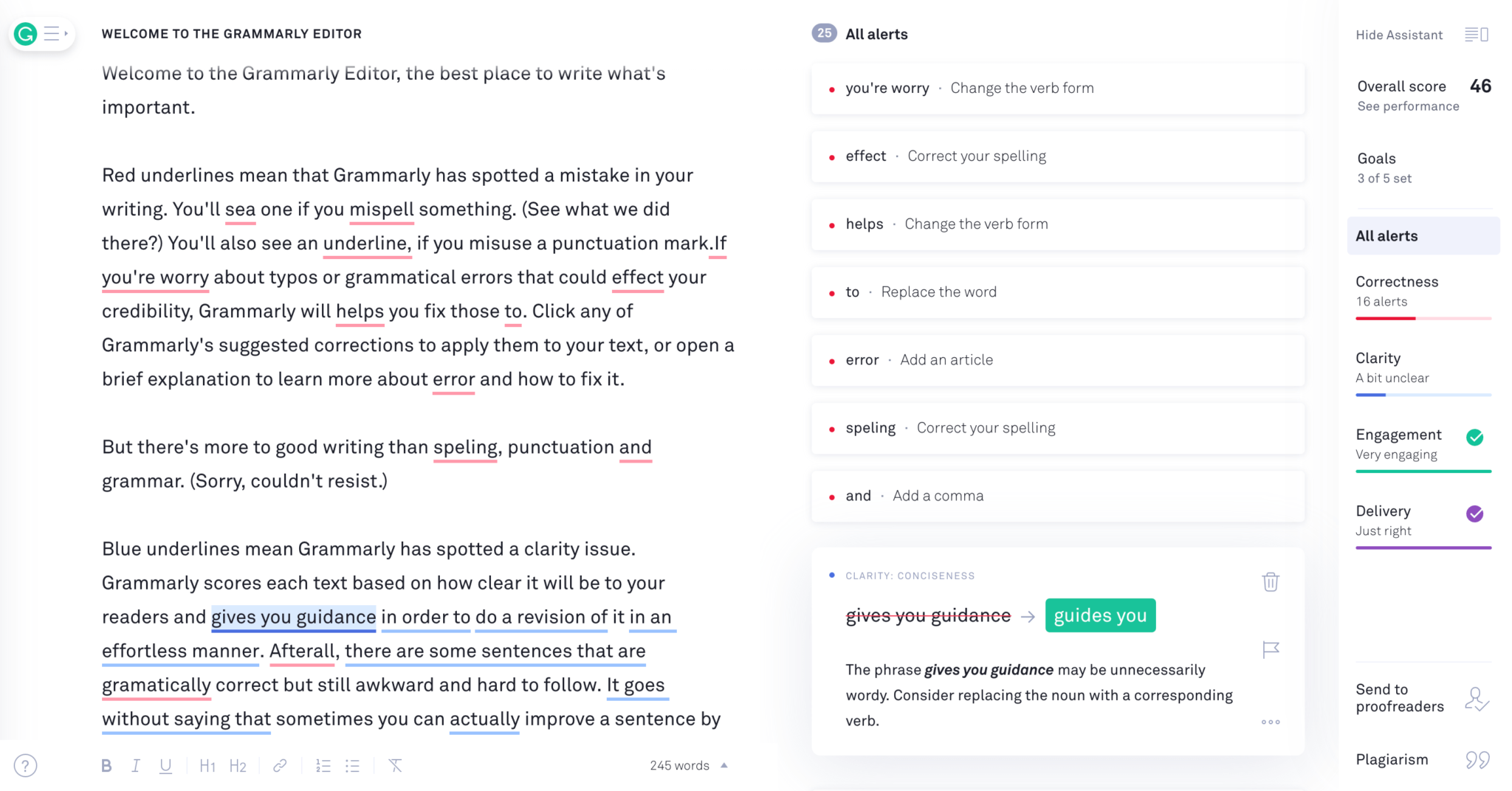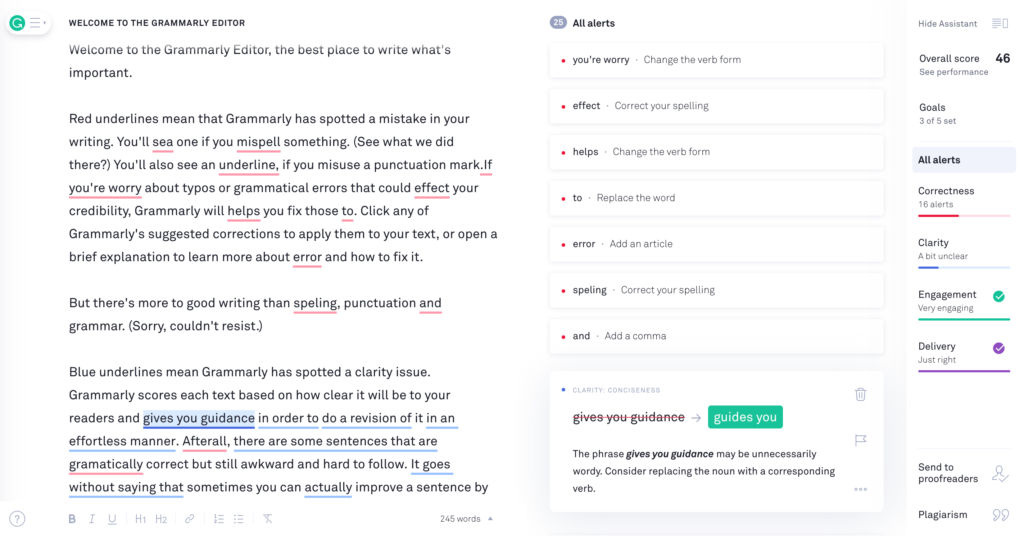 Spelling
Spelling checks are a life-saver for me. I can't count how many times I have misspelled a word in one of my articles. As I do, Grammarly once again underlines the word and lets me know that it's misspelled.
Punctuation
Punctuation in English has weird rules (at least for someone who isn't a native speaker). Most of the time, I just put commas where I think they'd fit, and sometimes, Grammarly disagrees. That's when it underlines the mistake, and I can just click to solve it.
Definitions
Another nifty feature is Grammarly Definitions. If I double-click a word somewhere on a webpage, I can see all the definitions of the word. Once again, useful for not-natives.
Synonyms
You know when you write a sentence, and there's just that one word, that really doesn't fit? As a writer, it happens to me all the time. If that's the case, I can just double-click the word, and see synonyms I can use instead of the original word.
All this really helps me a lot every day when writing. Without Grammarly, this article would be considerably worse. You can get the free version of Grammarly here!
Grammarly Premium Features
The paid version of Grammarly adds a lot of value, but I would recommend getting the free version first, using it for a week or two, and then considering paying for the Premium. I'm sure you will like it.
The paid version offers a halo of new features, such as readability checks, style checks for your genre of writing, and plagiarism checks.
Readability
Sometimes when reading, you find yourself re-reading the same sentence over and over again. This is probably because the sentence is very long, or complex. This is known as readability, or rather bad readability. Grammarly helps you keep your sentences fairly short and simple, by giving you a readability score, from 0 to 100. In most texts, you should aim for around 60. A text with a readability score of 60 will be fairly easy to read for a 13-year old.
Style checking
You can also set a genre of your writing, and Grammarly automatically changes its rules according to the style. You can choose to write an Academic document, a Business one, you can choose the Default style, Technical, Casual, or Creative. This determines how strict will Grammarly's grammar and style checks will be. For example, the Academic style is the strictest one, which can detect passive voice, contradictions, and more expressions you don't want to use when writing for academic purposes. On the other hand, the Creative style is the one that allows for the most leeway, allowing you to bend the rules of grammar a little, to achieve certain effects in (mostly) fiction writing.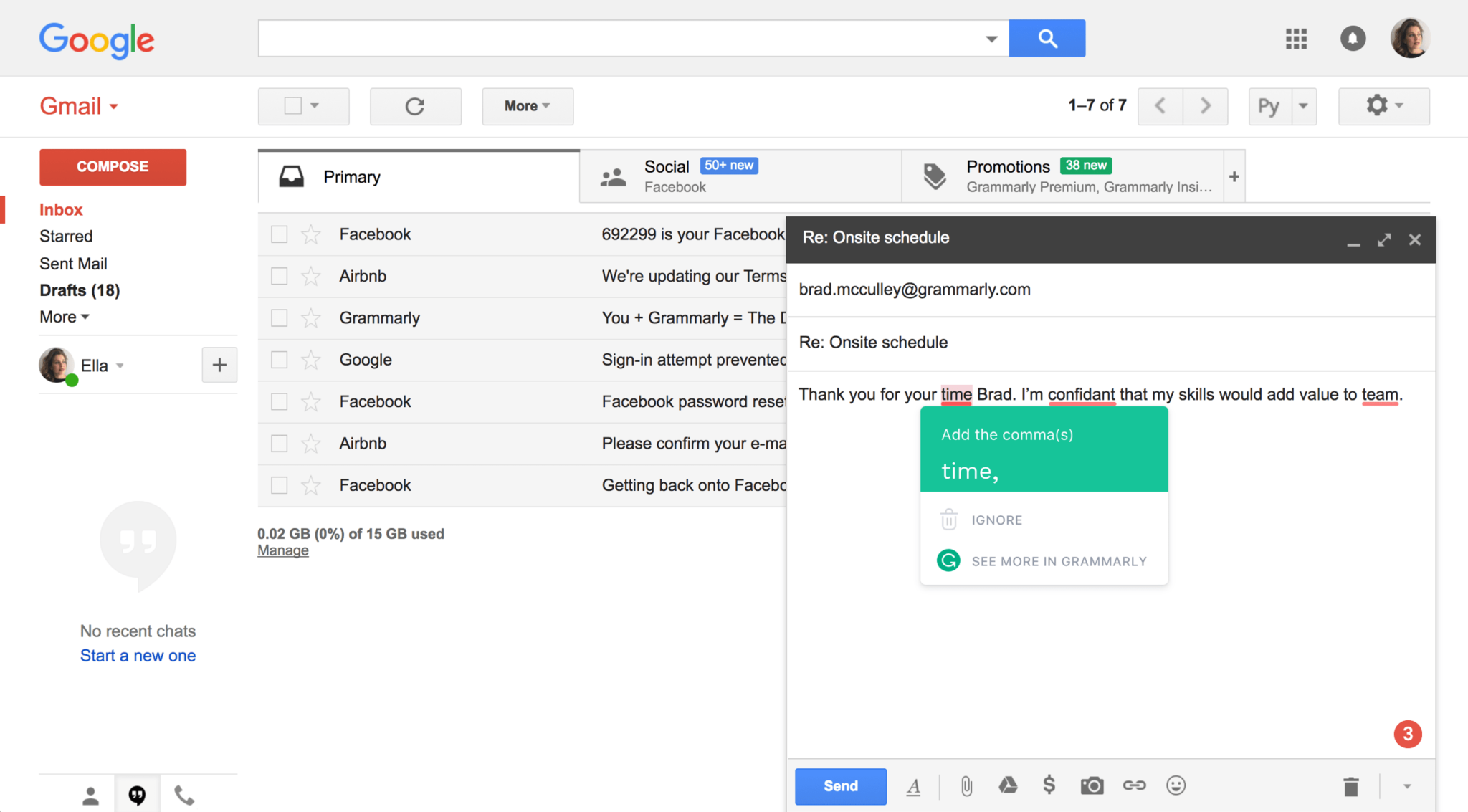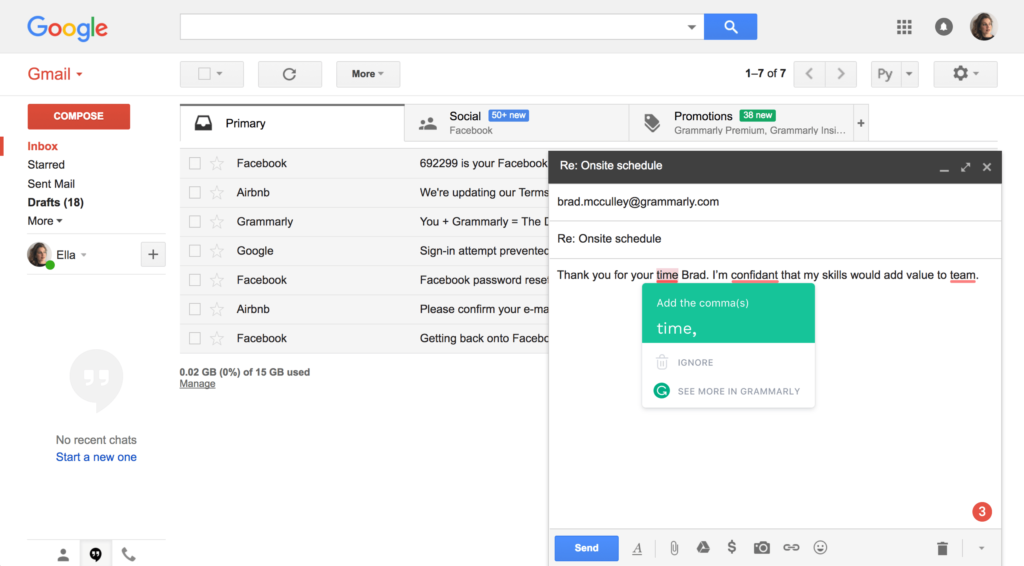 Plagiarism checker
If, for example, you are writing a term paper in school, Grammarly's plagiarism checker can help you find and cite your sources correctly. You can just click on the Plagiarism option in the bottom-left corner of your document, and it will scan over 16 billion pages in search for plagiarism. In the case that it finds one, it offers citation data to help you with citations.
Human proofreader
In case Grammarly is not enough for you, you can send your document to their professional human proofreader, for a few cents a word. You can even select how fast you need the text proofread.
Pricing
You can purchase Premium with 3 different plans:
$29.95 a month, if you pay monthly.
$19.98 a month, if you pay for 3 months in advance (billed as $59.95).
$11.66 a month, if you pay a year in advance (billed as $139.95).
You can get the Premium version of Grammarly here, but as I said, I would recommend testing out the Free version first.
Grammarly Affiliate Program
In this section, let's discuss how you can make money from Grammarly and their affiliate program!
In order to make money from this, you will either need a blog, a big social following, or an e-mail list (I'd like to write about all of these in the future). How can you make the money? Well, through affiliate marketing. In case you don't know, affiliate marketing is the process of sending people a link to a product or a service, and if they buy the thing through your link, you get a commission. You can also get commissions for free actions, like the people signing up for a mailing list, or getting a free product.
Grammarly offers a similar affiliate program, so you can promote it (but remember, always promote products you honestly believe in), and gain money from it.
They offer:
$0.20 for everyone who signs up for the Free version.
$20 for everyone who upgrades to the Premium version.
$25 for your first article on Grammarly.
10% of commissions from every affiliate that signs up from your link.
$200+ cash bonuses for top-grossing affiliates (if you make $2000+ monthly).
This is massive. Grammarly has a pretty high conversion rate (about 20% of people who click on the link actually sign up), so you can really make a lot of money from their affiliate.
To register, go to their affiliate site, fill out all the info, and wait for about 2 business days. They will get back to tell you if you have been accepted.
After that, you can grab their links from their dashboard (useful for websites, social media, and e-mails), or you can grab their banners, like this one:
This is, of course, useful mostly just for websites.
Conclusion
Grammarly is a great tool for everyone writing in the English language, as it can help them with grammar, punctuation, spelling, and a bunch of other writing problems. You can get the Free version, or the Premium version, starting at $12 a month. With their affiliate program, you can even make money from Grammarly, by promoting it on your website, or social media.
Links
These are all affiliate links – by getting Grammarly from these, you help (a lot) the blog grow!
Start using Grammarly to improve your writing, today! If you have any questions, feel free to ask in the comments below!